Hottest Baseball Players: #6
The 6th hottest baseball player is......
Chris Carpenter
Why did Chris Carpenter make the list? Let's contemplate that...
He appears to be hiding something there. What is it, Chris?
Come on, show us...
Oh, no! It's a soul patch!
But, he
is
from New Hampshire (and lives there in the off-season), so I guess I can overlook the soul patch. He doesn't know any better.
Chris had some bad luck back in 2004. His team made it to the World Series, but he had a torn something-or-other, and had to watch from the bench as the Red Sox swept his team.
It made him very sad...
It's okay, Chris. If you'd been able to play, you may have made it a 5 game series, but there was no stopping those Red Sox.
Things began to look up in 2005. He was in top form, and was able to win 21 games, pitch 7 complete games, and finish the season with a 2.83 ERA. He was given the Cy Young. Here he is, looking quite formidable.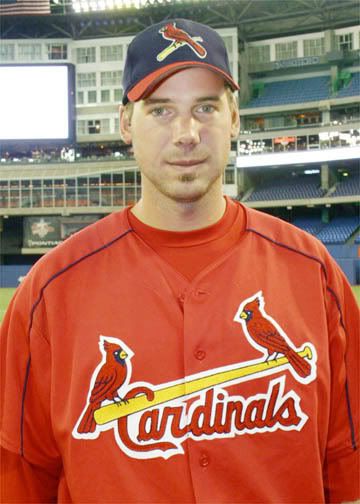 In 2006, he goofed off a bit...
...and only won 15 games. He only pitched 5 complete games, and his ERA sky-rocketed to 3.09. He finished a measly 3rd for Cy Young.
In the post-season, he put on some hot shorts and stepped it up...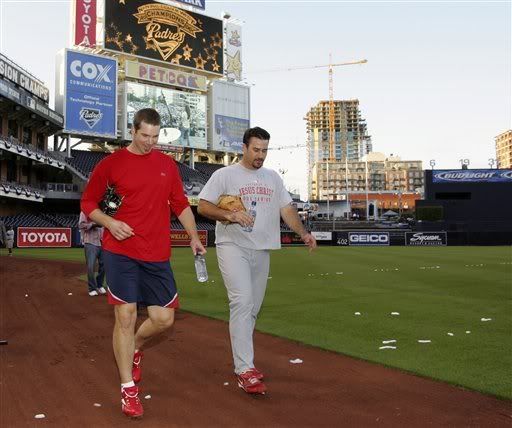 He led the Cards back to the World Series and helped them win it this time.
Hugs all around.
He even brought his son into the locker room to celebrate...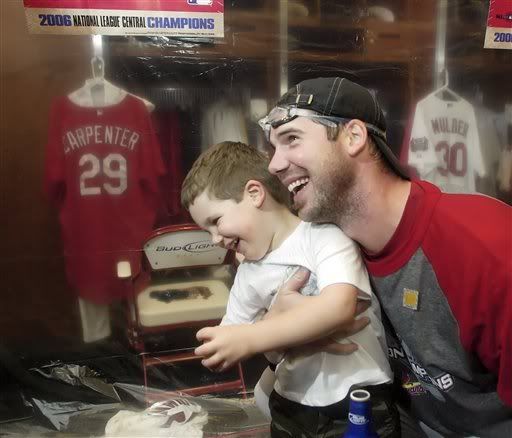 His daughter, on the other hand, obviously hates baseball...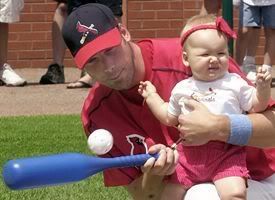 Let's look at Chris some more, doing what he does best...
The wind-up...
The follow-through...
Look where his leg ends up! That boy is flexible!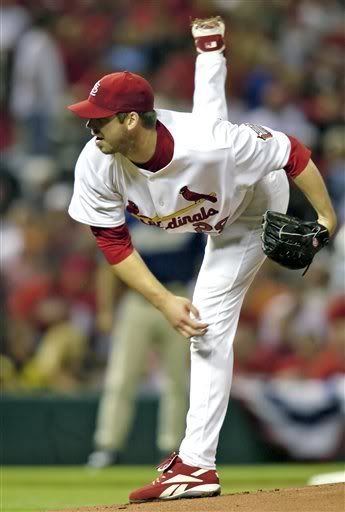 One last view...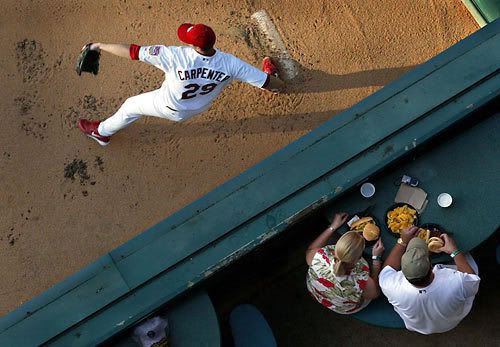 I cannot believe those people are concentrating on their burgers
when their team's ace is standing right in front of them!
Pujols should go over and give them a good ole fashioned bitch-slap.
Labels: cardinals, chris carpenter, hottest baseball players