Hottest Baseball Players: #4
The fourth hottest baseball player is..........
Carlos Pena
Carlos is a local boy, hailing from Haverhill, Mass. But, he sure gets around in the MLB. He started in Texas, then went to Oakland...
Then he went to Detroit, where as recently as 2005 he was lauded as "the only sure thing in Detroit." Which is really saying something, given the way that the Tigers played last year.
But, the Tigers are an exceptionally ugly team, so maybe whoever called him the "only sure thing" was alluding to the HD-TV potential of the Tigers roster. Carlos Pena is a gift to HD-TV. He looks like he's modelling all the time.
Here he is, posing with a bat....
Very sexy in black and white...
Here he makes the Tigers uniform look like it should be shown on a runway...
Looking good...
I-Rod thinks Carlos is soooo hot...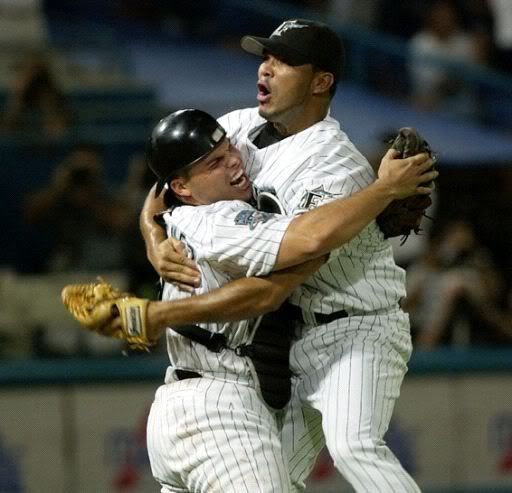 Last season, a great thing happened. Carlos became a Red Sock!!!! Which was probably his lifelong dream, since he grew up here. And it was my newly-discovered life-long dream to watch him play in his red sox, once I saw his gorgeous face. Good job finding this one, Theo!
Carlos wore his red sox for a mere 18 games.
Why oh why does life have to be this way?!
But, one of those 18 games had a very happy ending for Carlos, the Red Sox, and everyone in Fenway. It was Labor Day, and Fenway was packed, as always. Nine innings had been played and there was still no winner. In the bottom of the 10th, the score was tied 2-2, when Carlos stepped to the plate and hit the first walk-off homer of his career. And it happened in Fenway Park, the ballpark he'd always dreamed of playing in.
He was mobbed at the plate, of course.
And then he gave an interview, which I was lucky enough to see. I don't think I've ever seen a happier, cuter player than Carlos, as he appeared in this post-game interview. Of course, this lone pic does him no justice.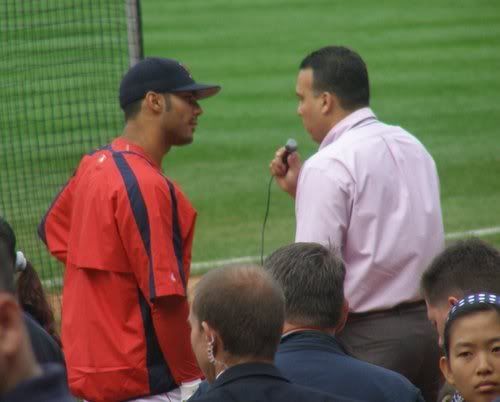 (I fully retract yesterday's lambasting of post-game interviews in general. They obviously have a purpose: hotness such as Carlos needs a vehicle, and many many closeups.)
The internet is a sad place, because it is lacking in pictures of Carlos Pena.
When I googled his image, this guy came up...
Who dat?
And Boston is a sad place, because Carlos is now a Devil Ray. And he's not even on the roster. I hope he makes it on, because then I'll get to possibly see him for as many as 19 games this season. Finally, a reason to be happy that the Sox play the D-Rays so damn much.
Ugh, I can't end on the fugliness of the fake Carlos.
Here's the real Carlos, with some lucky random girl.
Labels: carlos pena, d-rays, detroit, hottest baseball players, red sox, stupid stupid stupid