Hottest Baseball Players: #3
The 3rd hottest baseball player is.........
Jason Varitek
Captain of the Boston Red Sox
Jason is the soul of the Sox. That's why I love him so much.
But there may be some baseball goggles involved in the matter.
I'm really not sure.
Let's look at his many displays of hotness.
Here he's very young. And hot...
This is from 2001, I believe. Again, very hot.
This is his "come hither" stare.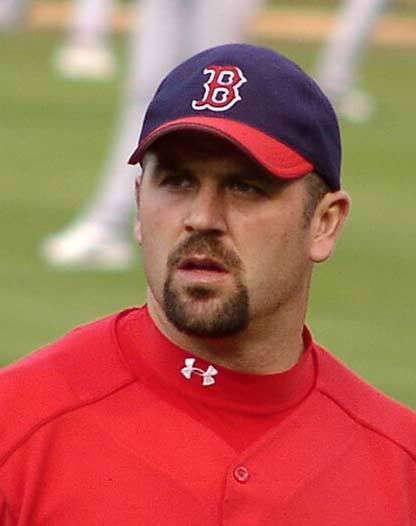 Actually, it might be his "Come here, Grady Little, so I can beat yo' ass" stare.
Jason takes himself very seriously, but sometimes he likes to get down.
Here he is, teaching Jose Reyes how to breakdance.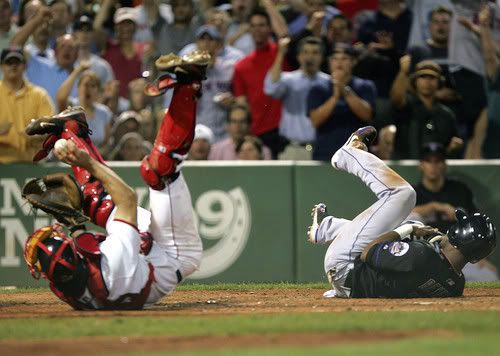 Being an awesome catcher, no one ever takes him out.
I love it when he trips guys while covering the bag.
But this picture shows him doing something even better: taking out Jorge Posada!
Ha, take that, Po-sucka!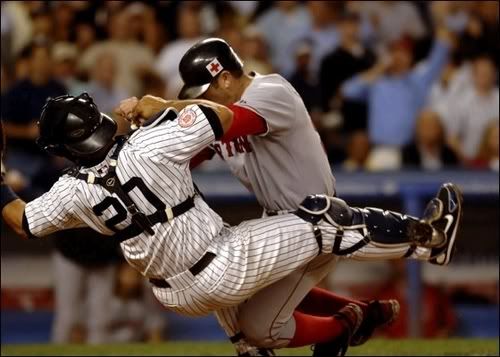 And here are some images from my very favorite love spat between Tek and A-Rod.
Tek's not afraid to mess up A-Rod's pretty purple lipstick.
The glove is love. : )
Tek was very happy after winning the World Series.
He's usually very quiet, but his thoughts came pouring out after that.
Observe...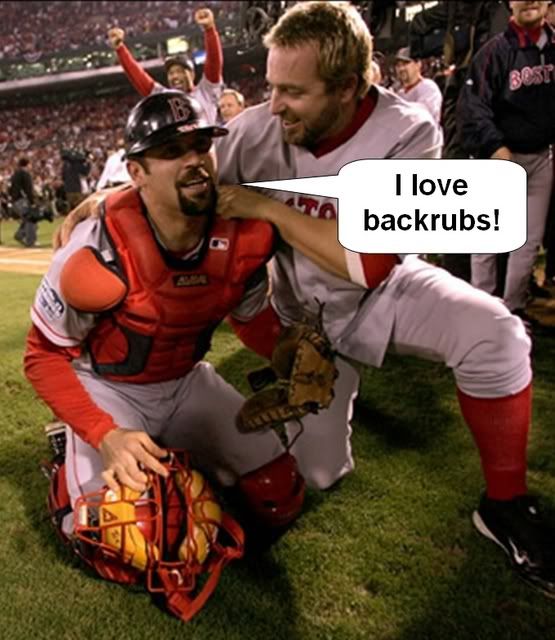 Here he is at the Victory Parade...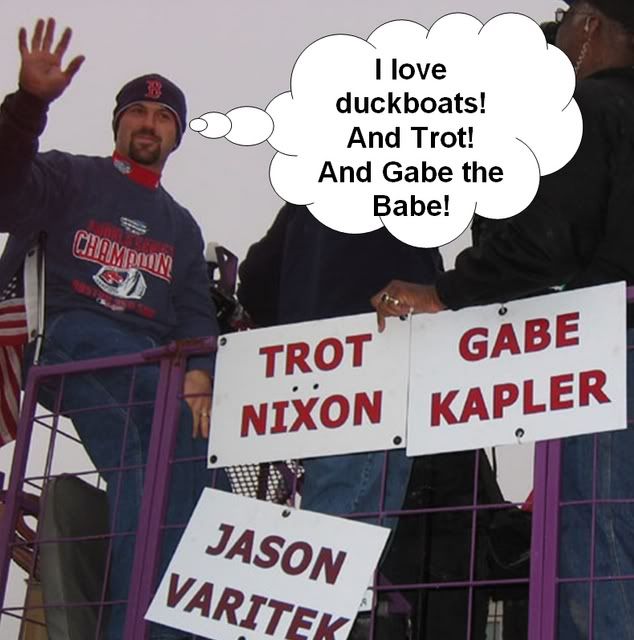 After celebrating, he got a much deserved pedicure...
And a makeover...
Yum.
Then Tek was named team captain. Yay!
Here he is, getting his captain's uniform...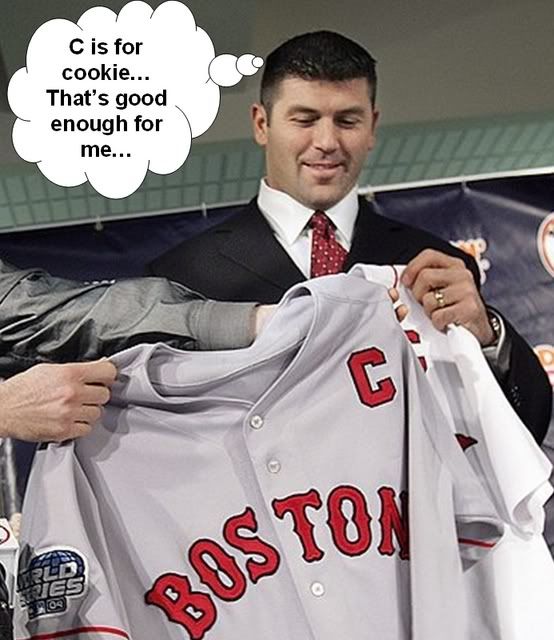 Tek may have thought that being captain gave him superpowers...
Or, maybe he's auditioning for Heroes.
Sorry, Tek. They already have flying men.
Here's a picture I took of Tek. Yup, I was this close to him!
I almost reached out and grabbed his buns...
(yup, I was.)
K-Mill knows how it is...
Varitek is Dice-K's favorite MLB player! He loves Tek so much that he carries his gear around for him. I kid you not! Read the caption...
Here he is, getting ready for his second career.
I love this picture. I think it's perfect to end on.
The captain, leading the troops into another season of battle.
Grrrrrr.
Labels: baseball goggles, hottest baseball players, purple princess, tek