The Sox are awesome.
The Red Sox are the best team in all of baseball. All the other teams fear playing them. Here's proof. Just check out this Twin after losing to the Sox last week...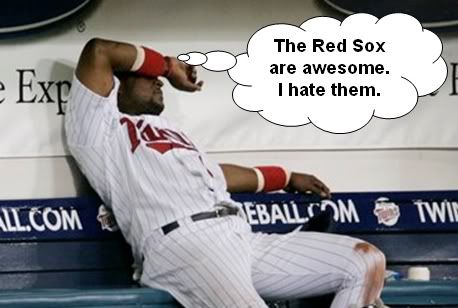 You know who also hates losing to the Sox? The Yanks. And they've done a lot of that so far this season, huh? They've lost 5 of 6 games. I almost feel bad for them. But, not really.
Last weekend I went to Yankee Stadium for the first time in my life. Sox won, of course. I had a great time. The day got off to a good start when I got to mock some Yankees fans on the train. They totally started it! My sister and I were the only Sox fans in the train car, and one of the countless fans turned to us and said, "How does it feel to be in a train dominated by Yankees fans?" To which I responded, "Well, I just think it's nice that the Yankees get to dominate something." No, I didn't even get shot or beat up for saying that!
Then we got to Yankee Stadium, and on the way to our seats, we got to see Dice-K throw his side session! He's awesome. Here's a picture I took.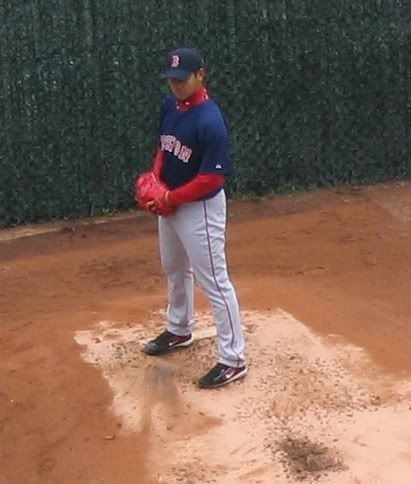 I had like the worst seat in the house. But, it didn't matter, because all the seats in Yankee Stadium are surprisingly good. This was the view from my seat.
The game was awesome. A few of Fenway's newest heroes showed their stuff and were stars of the game. Let's take a look at some of the guys making the Sox awesome right now.
Alex Cora is awesome. He needs to get more playing time.
Hideki Okajima is awesome.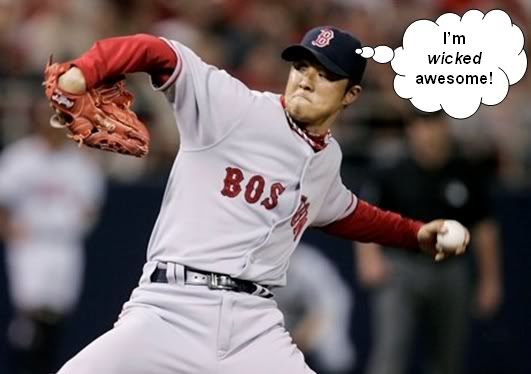 Wicked awesome.
Julian Tavarez is starting to look awesome. He started the game and got his first win of the season.
Big Papi is awesome. Here he is, hitting a home run.
I somehow managed to take a picture just as he hit this home run. Of course, I was sitting so far away that the picture looks like ass.
Yeah, you can't even see the ball. Here's a zoomed-in version.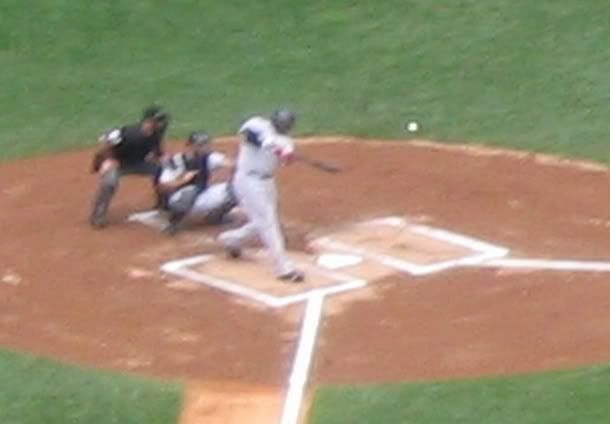 If only I'd had a) an awesome camera, or b) better seats!
You know who else is awesome? Coco! He hit a triple off of Chien Ming Wang.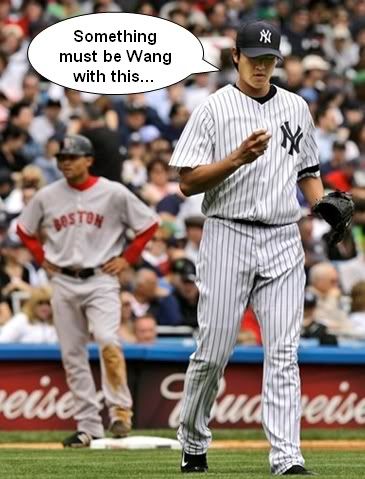 And he keeps making such awesome grabs...
I was sitting in a section that was almost entirely Red Sox fans. But, I could still hear the Yanks fans cheering. They have some lame chants. Whenever Jorge Posada comes up to bat, someone yells "Hip hip..."
and everyone else yells "Jor-ge!" (you know, instead of "hooray"). Well, in my section, the cheer sounded a little different...
He he he.
Labels: big papi, coco krispies, cora, dice-k, okajima, posucka, red sox, tavarez, yankees