The one hitter.
April 11th was Dice-K's big Fenway debut.
(It was also Tek's and Trot's birthday...happy b-day, boys!)
Unfortunately, Felix Hernandez stole Dice-K's thunder.
It started out innocently enough, with Dice-K and Ichiro exchanging pleasantries...
Dice-K got a little wild...
But he didn't hit anyone in the head.
Ichiro got a little crazy...
But he didn't hit Tek too hard.
Then those Mariners began getting hits off Dice-K.
It sucked.
Then this happened!
What the hell? That is an angle from which I have never seen Tek's butt.
While the Mariners were hitting Dice-K, the Sox were
not
hitting Felix Hernandez AT ALL!
Here are Felix and his catcher, Kenji, working on their game plan...
Dice-K was very sad that someone else was the star on what was supposed to be
his
big day...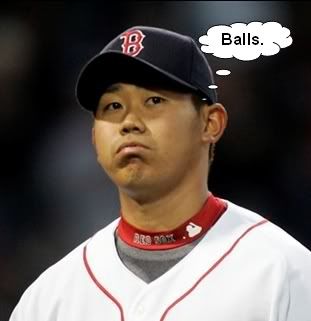 Things got nasty when Youk got walked.
Adrian Beltre tried to kill him!
That punk Beltre used to be on my fantasy team, but I had to release him.
Nobody messes with my Youki and gets away with it! Nobody.
Then JD Drew went and spoiled
everything
(as he is wont to do)
and got the only hit Felix would throw that day.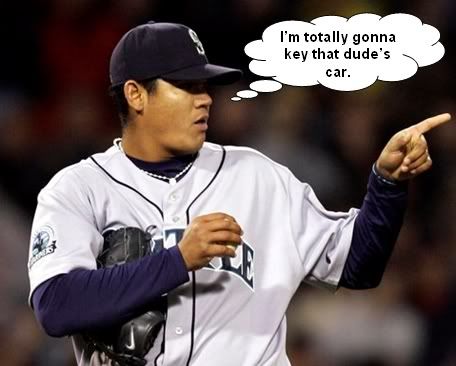 But, Felix was still pretty happy when he got the last out.
He celebrated by shouting the same thing we all shout when we're happy...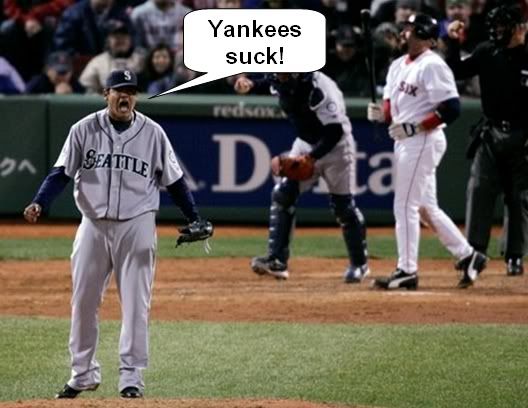 Because they do, right?
Labels: dice-k, good games, ichiro, red sox, seattle, tek, youk