Opening day wins are for suckers.
So, the Red Sox didn't win their opening day game yesterday. They were beaten by the lowly Kansas City Royals. All I have to say is, "THANK GOD." Because the Red Sox
never
win their opening day game. Last year was the
only
time they've won it in this century. And we don't want a repeat of last year, do we? So, it's a good thing that they lost. I don't want them to go changing anything. If they won today, it would have been akin to Manny showing up at spring training a week early, or Papi trying to bunt all the time. Plus, how many highlights are those Kansas City boys going to have in a season? Just a couple. And winning today was one of them. So, good for them! It was nice of the Red Sox to let KC have one measly day of glory.
Poor Schill. It just wasn't working for him today.
God must hate him or something.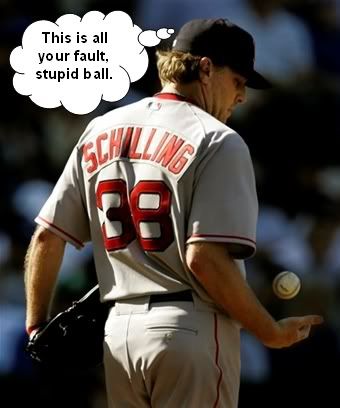 But, let's focus on the good news of the day!
Trot Nixon had a great game!
He went 3 for 4, with a double, a walk, and scored 3 runs!
Of course, he hit those for
Cleveland
, not Boston.
Just for the sake of comparison, let's see how his replacement did today.
JD Drew (aka Nancy Drew) went 1 for 2 with a walk. Hmm. Not nearly as exciting. He's clearly not Trot.
Hanley Ramirez also had an amazing game. He went 4 for 6, with 2 doubles, 1 rbi, 4 runs, and 2 stolen bases. Too bad he's playing for
Florida
, not Boston. What did our new SS do today? Well, Lugo was 1 for 4. But I'm sure he's worth every penny of that 12 million per year.
Yippee!
Labels: kansas city, red sox, schill, stupid stupid stupid, trot