Schilling is practically perfect.
Many amazing things happened for the Sox during the last few days.

JD Drew showed us that he
does
know how to use his bat, but he usually chooses not to.
Dice-K showed us that he doesn't even know how to
hold
a bat, let alone swing it, and that he is
very
good at striking out.
And Tito showed us what he looks like when he's mad.
Really mad...
I swear, I saw him throw the eff bomb around a few times.
But most importantly, Schill proved that he is still the ace.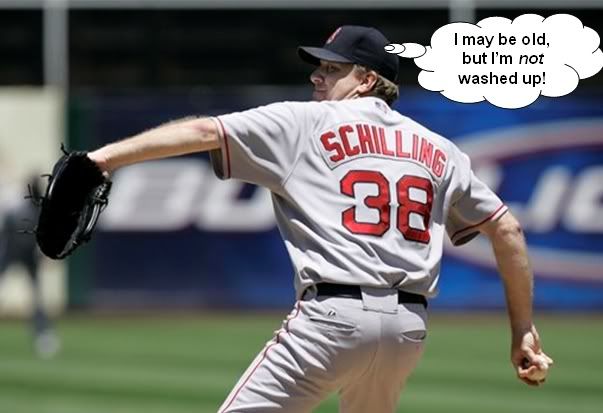 He would have pitched a perfect game, but Julio Lugo made an error, letting a guy get on base. It would be the only baserunner until the 9th inning, when the 28th batter got a hit, ending Schill's no-hit bid. Of course, if Lugo hadn't made the error and everything else had happened exactly the way it did, Schill wouldn't have faced that 28th batter, because he already would have gotten the final out of the game...a perfect game!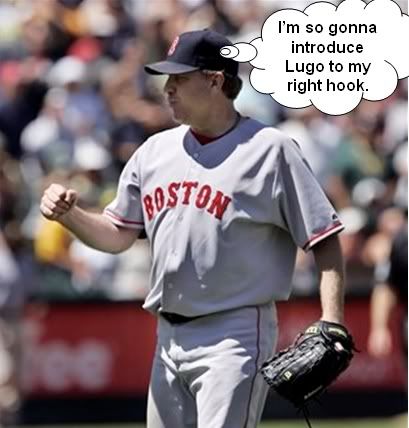 Of course, the fact still remains that Schill pitched a complete game, giving up only one hit and no walks. That's pretty damn impressive. I guess he's still got it!
Lugo, on the other hand, was in the dog house for his error.
The team made him stand in a corner for the rest of the game...
How embarrassing...
Although some people were betting against him,
Schill proved to everyone that he's still awesome.
Isn't Mike Lowell so cute?
Labels: jd drew, lowell, lugo, manny, one-hitter, schill, tito